I ask Grandma if she thinks Grandpa is making progress towards accepting his condition. She's careful about being too optimistic. Other wives of Alzheimer's victims she's talked to have told her that they often reach a plateau followed by rapid deterioration. She's bracing herself for this, as Grandpa has been about the same for several years now.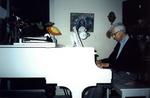 Grandma goes out with Frieda, giving me some time alone with Grandpa. I want to use it to tell him how I feel and talk about his memory loss, but it's hard. His knee is hurting and he tells me about the traumatic-sounding option of a knee replacement. Then Aunt Julie calls, and I talk with her a bit. I do get a chance to tell Grandpa that I love him for his spirit, and that his limitations in old age will never affect this. Then it's time to go out to lunch with some of his friends at Cypress Village.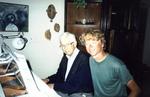 His knee really hurts and he has to lean heavily on a cane. We go out, packed 6 in one car, to a little seafood shack on the St. John's river. The guys rib each other and joke around, but Grandpa seems anxious and not playful. We all eat fried oyster sandwiches, then go home.
We rejoin Grandma, and I gently remind Grandpa that he wrote a check to get some cash and never cashed it. "Oh, I'm glad you remembered that!" he exclaims. I feel good. Grandma sends us to the bank downstairs to cash the check. Grandpa flamboyantly gives me $20, as he loves to do. Then Grandma comes down and reprimands Grandpa for taking the checkbook. We have a tense little exchange in which I land a bit on both sides, and we retire for an afternoon rest. I start to pack.
By the end of dinner Grandpa can barely move along on his cane. I really feel for him. His spirit is well, though. He showers us with love and we say some heartfelt things.
I spend the evening watching Grandma coach the choir. Just as I imagined, she is a strong leader, formal but encouraging.