Okeefenokee Swamp, GA
to
Jacksonville Beach, FL
8420 mi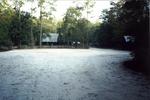 I wake up early and head for the swamp wilderness drive. I have the park to myself, I see only some employees on their way in. The land shifts slowly from southern pines to dark pools and tangled, viny brush. On Chesser Island, surrounded not by water but swampland, there is an old homestead on a flat, sandy plot of land. Around it pens, a grindstone, outhouse, storehouse, and well are neatly arranged. A strange place to pick for spending life, but definitely a place with its own serenity and beauty.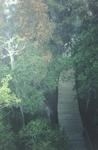 The real treat is a boardwalk that extends 3/4 mile into the swamp. You can peer into the incredibly thick, tangled morass of vines locked in wide masses over the drier expanses. Snags rise above this, and a few living trees, some kind of hemlock perhaps with small, shiny, silky needles. A hawk perches atop one.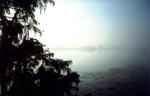 Up high and in the distance mist floats, spreading out the light, enshrouding the more secret areas. Strange bird calls float in and out of it. At the end of the walk is a tower that offers a view out over open water and more thicketed areas further off.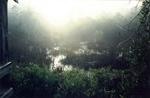 Everywhere are spiders in the centers of beautiful shining webs, engraved with their own image on their abdomen. Birds with strangely curved beaks and wings float by. Everything eventually turns to mist in the distance, as if the created world only exists in the vicinity of the observer.
By 9 I'm back on route, heading south down the St. Mary's river. At St. George, I cross into Florida and give myself a cheer. I've now visited half the states in the union on this ride!
Once again the land transforms. More houses, more sand, even bigger sky, and very Floridian-looking pastel buildings. In Callahan I eat and call the grandparents, telling them I'll be there late in the afternoon.
Briefly I talk to a pregnant woman smoking a cigarette and carrying a bag down the road. She's headed downtown, miles away, to make some appointments. "Won't it take a long time to get there?" I ask. "Naw, not much further now," she says.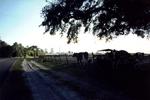 I pass the airport, then a nuclear power plant surrounded by cow pastures. There are a series of islands with folks fishing off the bridges in between. I puncture a tire on the last, which takes 20 minutes to patch. Mosquitos attack me while I work. The return to summer is complete.
At St. John's Ferry I have another 20 minute wait, during which I eat a snow cone and talk to shirtless, tanned, tattooed Floridians. After crossing I head south again, soon coming to a wide, sandy beach. The ocean, vast and wide, calm and mysterious, once again spreads out before me. Pink buildings, fancy cars, lithe women, and lazy-paced traffic abound.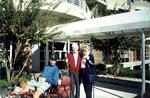 A couple of highway miles get me to Cypress Hills, where Grandma is waiting. She has that same sparkle as always. Grandpa's not far behind, concerned as always with the details. It feels good to see them. I relax into their formal, luxurious lifestyle. Because I don't have a jacket to wear to the resident dining room, we go out to an expensive Italian place to eat. Grandma's sister Frieda comes with, all smiles, contrary to the reports I've heard of her struggles with depression. Grandad's memory has gotten no worse, but the stress of denying the problem seems to be wearing on him. He's hurt by Grandma's insistence that the check go on her credit card. He's embarrassed by not being the one in the driver's seat. Still, he easily makes people laugh, which has never been Grandma's strong suit. I think we all enjoy dinner. When we get back I retreat to my room.