Greenville, SC
to
Abbeville, SC
8002 mi
I get up early and replace the tube in my rear tire. Don arrives faithfully with a protein shake for me, and I eat my last breakfast with the group that is now familiar. I eat less than I really want.
I pack up and give my last round of hugs. As I was afraid, Don gives me some money. I protest, but am unable to refuse it. $40. I don't need it, and I'm sure they do. Oh well. They give me a long wave while I speed off.
I stop at the library to check on the web page – still down.
I ride aimlessly through the downtown area and stumble on a bike shop. I buy a new spare tube, patch kit, and brake pads.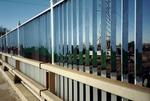 Out of town a ways I stop and eat some of the abundant picnic Anabel has packed for me. The road so far has been ugly, shut down shops and dirt everywhere. This park is a slight improvement.
From the start it's clear I'm retreating from the mountains. I'm still in hilly woods with frequent small towns. Twice I break for ice cream.
I actually go around Abbeville, heading for the National Forest. I soon reach it, enjoy the beauty of large expanses of trees, and look out for idyllic camp spots. It doesn't take long for me to find and settle down in the perfect needle carpeted, private spot. I read and eat the rest of picnic sandwiches.