Cowpens, SC
to
Greenville, SC
7936 mi
Heavy rain during the night. My spot turns out to be a little high-centered, not quite comfortable. I wake up early and read until the rain lets up a little, then set off.
I'm treated to some marvelous views as the sky clears and clouds again. Headwinds appear about the same time mountains do to the northwest. The world is a place of large, rapid changes today.
I decide not to eat in Campobell and am well rewarded. Gowensville waits for me with a fully homecooked, downsouth, breakfast buffet. I enjoy eggs, potatoes, biscuits, grits, pancakes, and fried apples.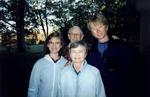 From there I keep the foothills in view as I ride for Greenville. I have not looked at a map of Greenville, just Uncle Don's instructions. I'm not quite attentive enough, and I make a mistake early on. Thinking I'll be arriving soon, I call Aunt Kathy and announce myself. My body must want to ride off that breakfast, though. I ride all over Greenville before consulting a map and finding my mistake. Again I arrive late to eagerly awaiting relatives. I spot Aunt Kathy first on a 2nd floor walkway, then Anabel and Uncle Don. When Aunt Kathy has made it slowly down the stairs to greet me, I see tears streaming down her face. The tears are so real. I realize I may never fully learn from whence they come. I hug her dearly.
I am shown my room, a full two-person dorm room down the walk from theirs. I guess housing is plentiful due to the small number of students at the Evangelical Institute this year. We sit, have a snack, and get aquainted. Anabel makes me toast and tea.
At dinner in the cafeteria I meet a few of the other regulars here. All seem friendly and strong-willed. Of course I answer many questions.
We plan for tomorrow. An early breakfast, a hike "up the mountain," and family movies. I retire to the luxury of my room. Craving a little sugar, I munch on some donuts I have stashed, then read myself to sleep.