Troy, NC
to
Lowesville, NC
7803 mi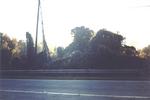 There is a little mist this morning. At one point I think of many allegories when I see the road arch up, disappearing into a land of mist. Out of the top springs a gloriously colorful tress, vibrant in the sun. I wonder what message the universe is giving here? I approach. The mist clears a bit. The road does indeed take me to that glorious place. And descends from it further on as well.
Buying lunch materials, I forget that I need a new pen.
I have thoughts of breakfast when I reach Abermarle, but no place calls to me. I ride on. 13 has quite a bit of traffic, I have to concentrate. In my mind I trace my journey back a week (leaving Bridgewater), then a month (leaving Norrie Mansion).
In Concord I'm quite hungy and opt for the Pizza Hut lunch buffet. Greasy.
Talk to Mom and am lifted by her good spirits.
Riding again, the North Carolina air is my lover. She covers me in her satin kisses. She makes her kisses cold to see my smooth skin bristle into goosebumps. She kisses hot to make a bead of sweat appear. She takes the colors all around and blows them into me. I laugh and moan – it's she that's passing into me and out again.
For some reason I'm drawn to the Duke Power Energy Explorium. It's full of propaganda. They have no tact. Their film presents us with Mark Twain in a white suit, singing the praises of powerful, friendly Duke Power from his riverboat. At one point he exclaims, "Hey, this isn't a river, it's a lake!" Many more insults to Samuel Clemens follow. I do find, however, a map with a nature preserve nearby. I go, and it's a perfect campsite.