Gladstone, VA
to
Clarkesville, VA
7555 mi
I enjoy the usual rush of pleasure that comes when I start off on a beautiful clear morning. It's cold though, there's heavy frost on the grass, and when I cross the river at Gladstone around 8:30 am there's still ice floating in it. The only thing I notice I need for the cold is a new pair of glove liners.
I'm cruising south on 26 in a bright valley between two ridges when I see some dumptrucks coming. The foremost plays me a little ditty on the horn and I see big Wayne behind the wheel. Ha! At Appomattox Wayne pulls over and gives me one last round of directions. His workshirt has a patch on it that says "Bear".
A good breakfast at Raymond's "World Famous" Cafe.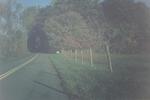 As I recede from the mountains, my world seems to shrink. I'm always surrounded by a ring of nearby trees, even on hilltoops.
In Red House I get my first lecture on the Civil War. A shaggy guy introduces himself as "Robert, Bob, Bobby," and keeps loudly repeating that I'd best not tell a lie in Red House. I try not to laugh – he just hung up a payphone saying he had a call on the other line. He calls Appomattox the "Surrender House," and tells me to go back up there and learn a few things if I'm still wet behind the ears. He's still shouting as I ride off.
Still no luck reaching Camella.
In Charlotte Courthouse I almost get online at the library, but their ISP is down. Just my luck. I brush up on my Civil War facts and try once again before taking off.
I almost go the wrong way in Chase City, then I go for miles to make Clarkesville by dark. There I find a most welcoming sight – a state park campground closed for the season. I have it all to myself, and take a lakefront site.