Orlean, VA
to
Shenandoah NP, VA
7312 mi
Gorgeous morning. I hardly care where I go, it feels so good to be on the road. Cold from the air, heat from the sun and the work, fairy-tale visions shining in the yellow morning light. I blissfully sail down an anonymous road, but the left brain revives enough to turn me around. I don't care. Every minute I feel better. I come down to earth a bit when I reach highway 51. That pesky hunger has returned, and my rear tire is low.
I make it to Front Royal, eat at perfect out-of-the-way Mom's kitchen, and give the bike a quick tune-up. Magical sun! I strip to shorts and T-shirt for the first time in days.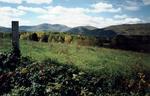 It feels great to climb into Shenandoah Park. Four miles of glorious rising. Overlooks showcase idyllic farms along the twisting Shenandoah River to the west, the Piedmont spreading out like a sea to the east. Like in all parks, everyone is interested in the bike. I answer just what is asked and no more. Some people learn much more than others as a result. Interesting.
I pass two guys taking pictures of a cute little Porsche Boxster. I tell them I can get more miles per gallon of ice cream than it can per gallon of gas. The photographer just wants me out of his way, but the other guy is friendly. He tells me I'm looking at next year's model.
There are some good accents again. One lady, when she learns how far I've come bursts out, "Why I'm suh prad uh yew!" Some kindred spirits from the UK cheer me on. A weird lady from DC tells me about her distilled water soy shake diet. She cringes when I say I eat lots of FAT and CARBOHYDRATES.
Amazingly, the campground host at Matthew's Arm gives me a permit to backcountry camp for free! I have to search the rocky woods to find a spot, but it's quiet and solitary.