Mt. Vernon, VA
to
Orlean, VA
7259 mi
I wake up to rain, and the now familiar dread of breaking camp in it. It's never as bad as I think it will be.
It's a strange morning's ride. I make sure to not make the same mistake that took me to Taco Bell last night. Instead, I enter Fort Belvoir Military Reservation. The signs are all messed up here, and I get off route again. I wander into the entertainment division, and wonder what the US Army Soldier Show is like. After much meandering through dreary compound buildings I reach Lorton Road, my exit. I pass up two fast food places in Lorton, figuring a better breakfast is ahead, secretly hoping for a Friendly's.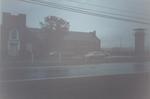 Lorton is the site of a truly menacing looking prison with miles of coiled barbed wire fence, watchtowers, and dirty brick buildings. A sign says Occoquan Workhouse was once nearby, where they sent women's suffrage demonstrators from DC.
I pass through Occoquan, a quaint riverside town gulped up and spit out by river industry. Again I pass a restaurant with high hopes for the more populated area of Dale City. I'm thoroughly soaked by the rain now. A warm dry place is sounding good.
Alas, I pass only lunch places. Before leaving town I take what I guess is my last opportunity for any food – a McDonald's. It's hard to believe I've fallen so low, but as the hot coffee calms my shivers I resign to my fate and dig into a pile of nondescript fast food. Is it meat? Chicken? Beef? Hell, I don't know. It costs $9 to fill me up.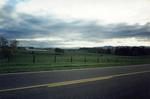 Thankfully the rain has let up when I get started again. I'm soon to the point where I must improvise a route. I ride country roads northwest across the Piedmont, marveling at the sudden openness. Then lone hills, called monadnocks, start to appear here and there. I hit my target of Warrenton right on the nose, after helping a girl tie down the hood of her beat-up hatchback.
I try 211, a divided highway. It sucks. No shoulder, heavy traffic. I'm relieved when I can turn off on another quiet county road.
I ask a man who is playing with his dogs where I might camp. He yells back a few places to try. The first is fine, a wood behind a small private cemetary. I eat sandwiches and read, listening to my nearby neighbors through the woods.