Patuxent River St Pk, MD
to
Mt. Vernon, VA
7195 mi
I think my meditating gave me a blast of energy that woke me up. Or maybe it was the thirst. Or the honking ruckus of flying geese echoing through the valley. I watched the 1/4 moon cross the sky. I thought about my relatives' Christian beliefs, and clarified my own. I tried not to think of water. After the moon set, I slept again.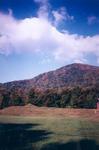 A wet, dewy morning dawns. I try taking some small roads to rejoin my route. They are quiet and serene. Then I hit DC traffic. I wait in lines of cars, concentrate, ride on sidewalks. I stop at a bakery for an expensive breakfast. Once I have crossed the major freeways, it becomes nice again. On Bradley Blvd. I can hardly tell I'm in the midst of urban chaos. Nor on Rock Creek trail.
I call Mom. Hadie has found my phone and FedEx'ed it to Bridgewater. Amazing.
I take off to ride around the White House. Out front there are tourists milling and taking photos, a few permanent little demonstrations ("the 24-hour peace vigil, etc."), and one yelling lunatic bemoaning the loss of his first amendment rights. Secret Service dudes are scattered about. It's fun riding my bike where only official vehicles are supposed to go. I see Bill's heavily guarded and gated personal entrance. I wondered if I might catch the media's eye here, but no, I am just another freak here outside the President's home.
I ride by the Lincoln Monument, then cross the Potomac. It's a nice, car-free ride on the bike path 16 miles to Mt. Vernon. I get hungry, wishing for a Taco Bell and a nice place to camp.
I take a wrong turn after passing George Washington's estate, which, by the wandering ways of the universe, leads me directly to a Taco Bell. I feast for $5. Realizing my mistake I find I should return to Mt. Vernon via a different route, then re-try my previous route. On the way I find a nice spot in the thick woods to spend the night.