Madonna, MD
to
Patuxent River St Pk, MD
$13
::
breakfast, map
61.50 mi
::
5.05 hr
::
36.1 mph
::
12.0 mph
::
7127 mi
Heavy rain through the night, but it lets up before morning. A short ride into a small town, I stop to buy a Virginia map, and grin at my fortune when I see a Friendly's down the road. A big, cheap breakfast awaits.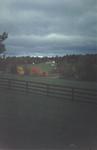 I decide I like Maryland. The bucking, tumbling, rolling hills are thrilling to ride, and the tops come with views of other hills gently covered by farms, forest, and neatly fenced horse pastures. There are also lots of Methodist, United Methodist, and Episcopal churches, many accompanied by quiet old cemetaries.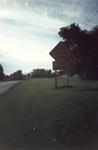 Having worked hard, I pedal for Patuxent River State Park anticipating a good meal and a place to camp. Road work and a long detour add to my appetite. Then I find I have to pedal several miles off route to reach a picnic area, and on a busy road. Hunger rages. In my eagerness to get there, I fail to tank up on fuel and water.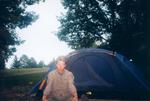 The park turns out to be perfect: beautiful, big, and empty. I have enough fuel and water to make dinner, but I'm left thirsty. My spot inspires a meditative mental state. I sit down to stretch and stay there awhile, feeling immersed in nature, immersed in God, awash in the joy of perception and feeling at one with its paradoxes.