During breakfast we begin browsing some of Eileen's photo collections together. She is an impeccable organizer: all her travel and family photos are organized into carefully grouped and labeled books. She is currently "downsizing," she claims, to make sure everything is easy to distribute when at last her failing eyesight requires her to move to the Lammermuir (or Big) House.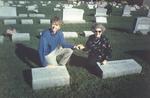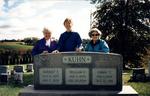 I meet my cousins Marjorie and Walt Jackson, our chauffers for the day. Marj is funny, she gives the impression of being scattered and confused, but then surprises you with a bit of quick thinking. Walt is steadfast, warm, and intelligent. We visit my great grandad's gravesite in Manheim, then the King Buffet, then my grandfather's grave east of Lancaster. Eileen's name is already on a large Overland Mission Foundation stone next to John Becker Kuhn. We visit a farm where my dad played in his youth, some houses where John B Kuhn lived in Manheim, and Suzi Obetz, a cousin, who takes us to dinner. We dropped Walt off at one point, so it is just the four of us. Our conversation is a little odd, strange stories and jokes come up, but we manage to enjoy it. Suzi seems tense about something, but she hides it with her warm, charming smile.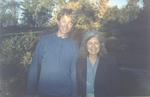 Leenie and I finish the day with a stroll home from Marj's and a chat before bed. We think of all sorts of things to do tomorrow. We are an industrious pair.