We're up early for breakfast. Earl reads from a little booklet called "Daily Bread" in the morning. Today's message is about appreciating God through nature. I mention that I like it. Then comes a very thorough prayer, which I am comfortable enough with. I can tell Earl is curious about my religious convictions, but he doesn't ask. Instead he tells me about all sorts of people in their community, many Spanish-speaking immigrants, and their convictions. Also their troubles though – intermarriages, marriages of convenience, illegal aliens, DUIs. I can't connect the stories with the names, not knowing any of the people, but Earl emphasizes the names anyway.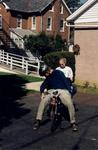 I get a free dental checkup from Earl. Hadie is his hygienist, and Fred helps with the books. Dianne is the receptionist. They have a nice, large building. All of them make a fuss over my beautiful, healthy teeth. Thanks Mom. Afterward I give one of Earl's assistants a ride on the back of the SPL.
In the afternoon Fred and I drive to Bethlehem to meet his brother Gerry. Gerry serves a delicious veggie lasagna and shows me the slide show from his 1969 coast-to-coast bike tour. It's good. There's even a shot of a sign along the freeway outside Laramie, three years before I was born there. He advises me to take lots of pictures of road signs.