York Beach, ME
to
Kittery Point, ME
$8
::
coffee, ice cream, snacks
10.12 mi
::
1.58 hr
::
23.5 mph
::
5.1 mph
::
6383 mi
I have a nice breakfast of eggs, bacon, cinnamon-raisin toast that Lorraine makes. We take pictures and they watch me ride off. I'm getting very familiar with the feeling of parting new friends, but not used to it.
I stop almost immediately for a moment alone, espresso, and yummy pastries.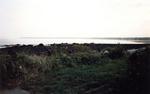 I forgot – before leaving Ernie and Lorraine took me on a sightseeing drive: Cape Neddick light house, the first public building in Maine (a jail), the wiggly bridge, and every church in town. Ernie has played organ for all but one. Near the wiggly bridge, I see a backpacker on the road. Leaves are starting to turn – everything is beautiful.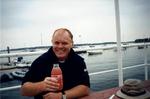 Later, a few miles out of York Harbor, I pass the backpacker and slow down to talk. He's Richard Nathan, retracing the voyage of 3 marooned sailors who walked from Mexico to Nova Scotia in 1568 to be rescued by French fishermen. He's doing it in reverse, studying relevant history along the way.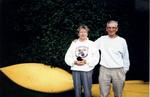 We're still talking when we pull into Kittery Point, so we share lunch. He buys the sandwich fixins, I buy the ice cream. Then he's eager to get going, so we part and I remain to savor my dish of Kaluha-brownie. By and by a small, sparkly-eyed old man wanders up and starts talking to me. I like him instantly. He offers to take me kayaking, and I jump at the chance. I meet Marie, his equally vital companion. I'll be her kayak. She reminds Charlie not to take me too far out. Off we go. Charlie Close at 74 is full of child-like energy and curiousity. He tells me about all sorts of people he's met and helped. He advocates talking to people and staying active and healthy. He smiles and glows.
We go way out by a lighthouse before turning around. It's a blast, waves now pushing us along. The upper-body exercise feels good. I fantasize about touring in one of these.
Back on shore, Marie invites me to stay. I accept, hoping maybe my fellow loopers will catch up to me. They feed me hamburgers, take me on a walk, talk about all sorts of things. I sign their guest book – the latest of many grateful visitors. This time I crash on the couch, because it looks like rain. I watch some TV even, and fight the urge to sneak out for a smoke.