Camden, ME
to
Orrs Island, ME
$19
::
BF, grocs, lunch
68.07 mi
::
6.16 hr
::
34.1 mph
::
10.8 mph
::
6274 mi
Busy day. Up early, I split the campground. Rode to Waldsboro, by which time I was very hungry. Moody's Diner took care of me with a good, cheap breakfast. My plan for the day: make my report from a library in Bath or Brunswick, then find a lighthouse on one of the peninsulas extending south, following Rowland's recommendation.
In Damariscotta I take a short break, listen to two old men discuss their favorite guns, and the animals they shoot with them. "Don't tell me you hit that rat with a foahtee-five, foahtee-five's a close-action weapon." "I told ya befoah, I used the thuhtee-eight!" They went on and on.
A local stopped and expressed his condolences that I'd had to ride through the mid-west. "I did my time there in college.That ride musta been flat and boahring as hell." Lots of German tourists around too, all curious about the bike.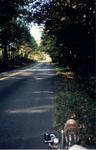 A nice small road out of Wiscasset, on which I meet a couple from LA, Clint and Allison, touring from Portland to Bar Harbor. They're friendly, especially Allison, whose straight brown hair and thick-rimmed glasses are accompanied by a body to die for. I can't stop staring, it's involuntary. It makes Clint uncomfortable, but not her. He just starts riding after a polite amount of conversation. Thanks Clint!
I forget the days are no longer endless. In Bath I stop for a sandwich, then hit the library to make my report. Now I realize I need to rush, and my hand is forced by the line at the computer. I head down 24 to search for lighthouses, but it gets dark before I'm even halfway there. As luck would have it, there's a secluded rest area there, where I abort my search, eat dinner, and camp.