Mount Desert Island, ME
to
Camden, ME
$25
::
BF, lunch, ice cream, beer, Drum
78.45 mi
::
6.29 hr
::
34.0 mph
::
12.0 mph
::
6206 mi
Didn't see Mr. Ranger on my way off the island. Had a good breakfast at a place with a pretty, smiling waitress. I skip the side trips on the way up and take the direct route. Road is good, I find a nice little bakery for lunch.
My mind is on Jeanette for some reason, so I try to give her a call. I get Dan – she's still asleep. I move on, the road gets bad at Lincolnville Beach, where I reach Jeanette. She completely de-emphasizes the fact that she got married, preferring to talk about nodders (bobbing head toys) and other Jeanettesque topics. She asks me for a highlight, as always I have no answer. I feel much better having talked with her.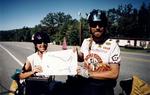 Oh – earlier in the day I meet two other loopers! Dave and a woman whose name mind has cruelly forgotten (Marcella). They started in Florida 8 months ago, same direction as me, now on their to Bar Harbor. They have me outclassed I'm afraid with colorful flags, laminated full-tour map, and video camera. On a waiter's pay, they claim! Like me they love it, and will start saving to do it again when they get home.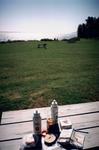 I pass Camden Hills State Park around 5, and can't resist the opportunity to have a picturesque dinner. I find a gorgeous table on the ocean and chat with people who convince me to give the campground a try. It's nice – I set up and feeling good I reide into town for a beer. Alas, the store I choose has my favorite tobacco, Drum. It's more temptation than my feeble will can withstand. I return to camp for a shower, Guinness stout, and fine smoke. It feels very, very good.