Mount Desert Island, ME
to
Mount Desert Island, ME
$39
::
BF, coffee, bike stuff, lunch
48.34 mi
::
4.56 hr
::
37.6 mph
::
9.7 mph
::
6128 mi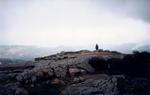 I spend the day discovering Acadia National Park. But first a look around Bar Harbor and a BIG buffet breakfast. Alas, it begins to rain. Must be my proximity to 1530-ft. Cadillac Mountain. I set off into the rather cold drops, then retreat to the visitor center to watch the film. Rather good as those films go. My determination to bike up Cadillac is renewed. There are "carriage roads" all over the island – carless, scenic ways made and given by John Rockefeller. My plan is to take one to Eagle Lake, stash my panniers, then continue to the Park Loop Rd. and on up the mountain. It seems to work perfectly. 35 lbs lighter, I fly up the climbs. There are occasional views, but I hold out for the top. Which turns to be ensconced in thick fog. Not worried, I get some postcards and coffee at the gift shop there and write and ruminate until it clears. And it does – briefly – long enough for me to be awed by the complete visual feast of ocean, sister mountains, lighthouse islands, Bar Harbor, mainland, all bejeweled by elusive sunbeams.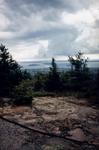 It has to be my most entertaining downhill yet. Deep turns twist, keeping my going fast enough to lean and lean until it feels like brushing shoulders with the asphalt. Then whip, up straight, lean left, bounce right, till I'm laughing loudly. I fly all the way to Bar Harbor to celibrate. The rain begins again, so I duck into a pizza joint and order a calzone. A smiling hippe lady comes in and asks if I know Jack somebody, doesn't care that I don't and starts asking questions. What are the most beautiful places I've been, places I might like to live. Montana? She guesses before I can say it.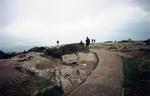 We talk for a long time about places to live. I suspect she's flirting with me, she seems reluctant to part. I say I have to make some phone calls and she points out a phone for me, gives me her address, tells me to ride the park loop road, and departs.
I try some calls, but no one is home. When I consider starting the ~20 mile loop ride, I realize I haven't eaten enough. Back to the pizza shop for a slice and a cookie. Meredith rides by and sees me back in the shop and suddenly I feel like I ditched her. Maybe I did.
Running out of daylight, I take off to ride the loop. The old guy at the fee station asks where I'm headed. "There's a few different answers to that question," I tell him. He then tells me where he's seen me before – on 233 at dusk last night, then on 233 again this morning, then on the mountain without my bags. He must know I'm camping illegally in the park. Luckily cars are piling up behind me, so he has to let me go. I hardly care – he knows he'll never find me. I'll wave if I see him on 233 again in the morning.