Waldboro, ME
to
Mount Desert Island, ME
$15
::
BF, lunch
105.7 mi
::
8.44 hr
::
36.9 mph
::
12.0 mph
::
6079 mi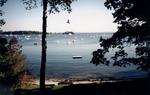 My first glimpse of the Atlantic comes at Rockport. A peek through the trees, a small bay, never a vast expanse. Maine makes the world feel small, everything you see is nearby, as if you're always in the woods on top of a hill. When you do get an occasional distance view, it doesn't look real.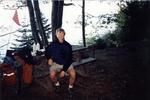 Camden Hills are pretty, with big bare granite rock faces protruding from the woods, but I must endure another bad road to see them.
I happily take my map's roundabout course, making today a day of riding. One road winds through strange, barren meadows strewn with boulders, another through lush oceanfront property.
In Ellsworth I listen to a moron try to pick up a pretty girl – they wind up yelling at each other. "Bitch!" "Bite me!" All in these great accents. He revealed that he was going to the bar, so the shopkeeper calls the bar to warn them. Soon he comes back, then heads the other way.
I reach the island, my final Northeastern destination, and am surprised by the traffic. It takes me a while to find my campsite, which I must do much earlier now due to shortening days. At 7 it's fairly dark. I eat my last snack in the company of a few stars shining through the tree branches.