Hancock, VT
to
Orford, NH
$25
::
BF, grocs, campsite
63.81 mi
::
5.52 hr
::
38.1 mph
::
10.8 mph
::
5774mi
I descended from clear skies into mist and fog. A cold, dewy morning. Ate a pleasant breakfast in Rochester. I am touring again.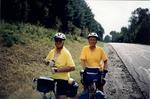 Near Bethel I overtake two touring cyclists. We meet briefly and agree to have lunch. One of them is Lee Cooper from Ft. Collins, CO. I'm amazed to learn that he started Lee's Cyclery, where I shopped for bikes and parts as a kid. His brother Vic and he are finishing their vross-country tour, which they have been doing two weeks a year for the past five years. They buy me pizza and we exchange stories and talk about women.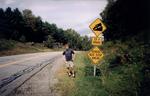 We part after lunch, but down the road I have to stop to fix my chain and they catch up. We start up some steep hills, which I plan on doing slowly, so I stay with them. As we huff up these steep Vermont inclines exchanging stories, I learn that Lee is 68 years old! He gets up the hills better than vic who is 10 years younger. I am impressed and enchanted with the idea of touring still in 41 years. I resolve to buy no more cigarettes.
I like these guys, so I ride with them to Orford where we split a campsite. A compromise, as I have been sleeping free and they have been B&Bing. Vic and I buy a six pack of local brews and some food. We eat, drink, and yak until dark. The showers are clean and hot. The Connecticut River flows quietly, darkly by at the foot of the hill.