Paulding, OH
to
Pemberville, OH
$8
::
lunch, ice cream
76.47 mi
::
6.14 hr
::
21.3 mph
::
12.2 mph
::
4883 mi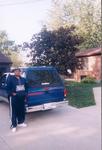 Awake to greetings of Tim, who showed me his four-wheel-drive recumbent last night inviting me to breakfast. We went to the ultra-cheap Vagabond, where I swallowed toast, potatoes, cheese omelet, and two cakes to his tales of 24 years of working at the insulation factory in Defiance. Among other things, they put him on an eight-day week, six on, two off, so he's always out of sync with the rest of the world. He loves what I'm doing.
Nice farm roads to Defiance. Head winds all day. Hot.
In Napoleon, a friendly lady at an ice cream stand makes me a really tasty caramel Apple Sundae. She starts a conversation, I ask her where the library is so I can get online. She offers to call, but consults instead with her husband. He offers to let me use his machine, but really he wants to talk my ear off. Somehow I get my work done, but he's still talking when I desperately ride off. It makes me feel so tired when people trap me like that.
I rode hard a while to let my mind recover. I pass a giant Campbell's soup factory. In Grand Rapids, a partly restored tourist town, I decide to treat myself to lunch. I end up getting a good deal from the friendly guy at the pizza shop. I cool down in the air-conditioned haven.
Ever since partying with Nathan I've been smoking hand rolled cigarettes. I wish I didn't like them so much. When the package is gone, I must resume my prior discipline. I hope it isn't too tough. At least they're hard to find.
On the way to Bowling Green I pass a bald kid walking a bike. He's wearing baggy jeans and a Big Boy polo shirt. I asked if he's OK-he says yes, but his tires are low. I look-they're almost flat. I stop and pump them up while he explains that his mom never showed up to take him to work, and he thought she'd pass him on the road. He's real late. I let him draft me and he struggles to keep up. In Tontogany we stop and eat and ice cream, while he calls his dad. He looks miserable, says he has to go into bowling Green to his dad's shop. I help him pay for a hot dog, oil his chain, and straighten his wheel. He doesn't want to hold me up anymore (he's tired of chasing me), so I say farewell. Have a wonderful trip, he says sincerely.
At Bowling Green I stop at a Big Boy, but they don't know him.