Harbor Springs, MI
to
Beaver Island, MI
$50
::
BF, ferry ticket
28.52 mi
::
2.44 hr
::
24.2 mph
::
10.4 mph
::
4261 mi
Another homecoming. I realized I was really looking forward to visiting Mom as the 25 miles to Charlevoix seemed to stretch to 50. Stumbled into the strange carnival vision of wealth called Bay Harbor, under construction. Huge buildings of copper, and an Inn like a Victorian mansion on steroids, a man-made harbor & doc on the inland side. Most unreal to imagine all of it populated.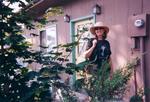 Ate while I waited for the ferry, then read & slept on the ride. Seemed to see Mom & her house with new eyes, she's surrounded by treasures that reflect her heart & productivity. She's always a little unsure of things when I visit, but for once I feel sure enough for both of us. We go mushrooming & I get a sense of the wooded trails where she spends afternoons discovering the strange world of fungi.
I see my pictures from earlier in the trip & realize that I must continue to take photographs. I'm happy with the results of many of my experiments.
I fall asleep after reading my birthday letter from Dad. It's a true treasure. It makes me feel unique & special to be the only son in the universe to have such a letter.