Apgar, MT
to
Belly River, Alberta
$5
::
coffee, snacks
80.49 mi
::
7.35 hr
::
41.8 mph
::
10.5 mph
::
1758 mi
6AM: awake, weather looks nice
6:45AM: on the road. Cool, easy riding, no shoulder, no cars.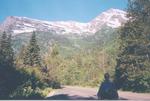 8AM: Getting glimpses of some peaks. Meet a leader of a tour group, talk a bit.
8:30AM: I hit the climb. The rules are you have to be off by 11AM. 12 miles and 3,500 ft to go.
9AM: I'm keeping up w/ some of the tour group cyclists who carry no gear. They're surprised to see me doing so well on a loaded recumbent.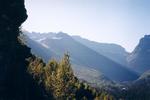 10AM: Enjoying the climb, the complex shapes of the peaks, the flowers, the sun. Taking a few too many photos – some I know won't be too great. Passing & being passed by an attractive lady in the tour group.
11AM: I stretch the joy of the climb almost to the limit. Congregate & stretch w/ other cyclists at the top. Motor tourists are stacking up – I start answering the same questions over and over. Eat burritos. Trying to enjoy the heights, I hike around. Two totally tame mtn goats and a begging marmot depress me a little. The attractive lady is there on my way back – her name is Eve. I run into a guy back at the pass starting the Great Divide trail – much like my own tour in attitude.
1PM: Thrill ride down the pass. I think I broke my speed record, would have done much better but for the cars. Learned to stop & let them go ahead. Then play.
2PM: yummy ice cream, finally reach Camella on the phone. Still the struggle, but she's working on it. Has some vacation coming in Aug – always a double-edged sword for a waitress. No new job prospects yet.
4PM: the campground I had scoped out has no hiker/biker sites. Discouraged I look at some others, liking none. Stop for a mocha to cheer up. Decide it's early, I'll just go to Canada.
5PM: good progress, nice scenery. Then I hit some serious uphill. I shift back to climbing mentality. The extra miles might allow me to explore Waterton more.
6PM: still going up mostly, I eat my third powerbar of the day.
6:45PM: Canadian border, questioned by a gorgeous blond park officer. My shyness returns, despite her interest in the bike. It's all downhill to the campground – Belly River. Devour dinner. Talk w/ the attractive leader of a group of camping girls while getting water. Get a handle on the shyness again. Whew.
I really don't want to pay for this site and again I don't have correct change. But I have definitely settled in. An ethical dilemma.