Lake Koocanusa, MT
to
Trego, MT (our land)
$20
::
food, beer, grocs
73.2 mi
::
6.3 hr
:: ::
11.3 mph
::
1596 mi
Last night I happened to read the jounal entry of Meriwether Lewis on his 31st birthday, 1805, where he declares that he has lived thus far for himself, and pledges to live the rest of his life (he wrongly guesses 31 more years) for the benefit of mankind. On my 27th birthday I pledge to continue living for myself, in hopes that my success will only benefit others. (Or at least, if not only.)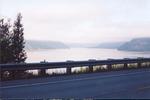 My best b-day gifts were the magical scenes produced around me by the sun, the clouds, the mountains, and the lake at play. I'm afraid the scenes I wanted to catch were gone by the time I readied my camera.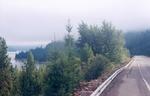 Eureka was a pretty sight. I stopped for lunch at the Rex cafe and the few remaining clouds left. Grabbed a sreal estate pamphlet w/ some land offerings near ours. Wanted an espresso drink, but the coffee house being closed, hit the road.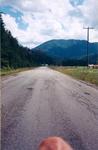 Tobacco Rd – one of the best so far – views, hills, silence.
Arriving at Dickey Lake went for a very reviving swim. Having resolved to be more engaging w/ folks, talked to some recreators from Redding, CA.
Couldn't get the phones to work at Trego. Deja vu. Bought beer & apple pie for B-day dinner.
Stopped at the Tucker Inn near the land. Friendly people gave me a tour, answered all my ?'s, & sent me off w/ a brochure.
The land looks like I remember. The forest may be thinning on the S. side. Lots of trees down there. Horsehair Moss seems to attack all the trees, esp. the Western Larch.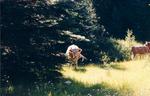 Had a face-off w/ a large bull. After some show of my determination to stand my ground, I win. I own this land when I'm here.
A little mellow for a personal holiday, but it will do.