Tonasket, WA
to
Sherman Pass, WA
$5
::
ice cream, grocs


60.57 mi

::

9.24

::

38.5 mph

::

6.4 mph

::

1216 mi



8AM: I'm up & get started before "Road Dawg" Keith, opposite of what he said. Changed his mind overnight. We agree to try to meet at Sherman Pass campground, exchanged addresses in case we miss. I tell him I don't think he'll make it, he insists he will.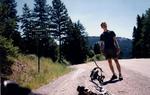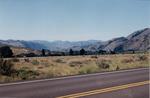 Up Wauconda: some local folks stop, give me a soda, their dog is nearly run over. Climb has a few trees, very reminiscent of hills east of Laramie. Hot, irritating flies.
Down Wauconda: Meet two couples touring. Nice high, green, lightly wooded hills.
Lunch: In Republic, kids climb all over my bike & ask lots of questions. Clearly lacking playmates, two brothers invite me to stay at their house. I decline politely & start up Sherman, which another bike tourist coming up Wauconda told me I wouldn't make as it is 16 miles of waterless 6% grade. Bah, I say. With plenty of water, I leave Republic at 2 PM.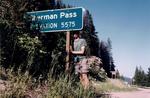 4:30PM: Sweaty, hot, and finally come to a grand vista where an '88 fire burned 20,000 acres, leaving the view wide open. An older couple are there, resting from their leisurely bike tour pace of 30-40 mpd. We talk & they give me some pistachios.
5:30PM: Sweaty, hot, but still have enough water to camp if need be. But I'd like more so I can walk some of these trails tomorrow. A lone camper with a friendly puppy tells me where to find water & back at the pass the older couple (50's? 60's?) is just coming over. We take photos, they are Dave and Sally Hall from Honolulu. Very nice folks, livin' well I say. We go down ½ a mile, I stop at the campground & they continue to Kettle Falls.
NOW: Found water, no road dawg yet, plan to hike tomorrow.