Washington Pass, WA
to
Tonasket, WA
$10
::
latte, apple fritter, 2 campsites


101.2 mi

::

11.8

::

37.5mph

::

8.6 mph

::

1155 mi



Way too much to write today, gotta condense.
Last night: played guitar & sang w/ Sharon & Lynette in the next camp – a little ackward but worthwhile.
~8AM: Cruzing down the pass, cold air, morning sun, exquisite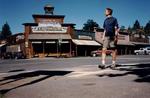 ~11AM: Winthrop, crazy old-west gold rush tourist trap. It worked – went back for espresso. Laramie-like climate, getting hot.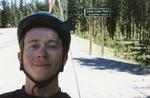 Up Loup Loup: very hot, still air, fewer trees. Do better keeping hydrated tho. Lunch on top.
Down Loup Loup: too bumpy & windy for speed. Puts me into serious desert. I start putting back the miles, but no chance of getting out. HOT.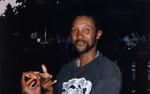 ~5PM: Run into another touring biker! Black guy, just one front tooth, has TONS of gear on his bike. Agree to meet in Tonasket to camp.
~7PM: I'm set up w/ a site, off to explore when he cruises in. Says he doesn't have $3 for a campsite, so I walk to the city with him. Name is Keith, also trying for a round trip. Wears a bullet around his neck left by his attacker who robbed him and left him in a coma for a year. 2 ½ years recovery since. Stopping for work here and there for his food. We get free showers at the pool, I walk w/ him to the police station. Closed. I give him $3 for a site. He's been calling me his "road dawg," likes to think he has a partner maybe. He has way too much stuff to keep up with me tho – we'll see what happens tomorrow.