Deception Pass, WA
to
Rockport, WA
$17
::
groceries, cafe lunch


79.63 mi

:: ::

35.6 mph

:: ::

981 mi



Starting to eat more, 4 meals & snacks.
Wished Steve good luck & crossed the bridge about 9 AM.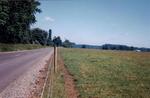 Route confused around Bay View, couldn't find Josh Wilson road, hit the state park. Took a wrong road & connected anyway.
Some really peaceful moments today. Feeling more at home with mountains getting closer. Made it almost to the beginning of the first climb.
Decided to camp free again. Found a really peaceful spot in an old tree farm. I hide away deep in the trees, can't see me from the little road I followed in. Lots of mosquitoes, but still not biting too much. Not too uncomfortable for dinner on an old dead log, then retreated to the tent.
Tomorrow I climb…