Centralia, WA
to
Bremerton, WA
$12
::
food, campsite


98.47 mi

::

10 hr

::

39.2 mph

::

9.8 mph

::

766.9 mi



Holy shit! I had no idea I did almost 100 miles today. Wow. Guess that's what a little tailwind can do.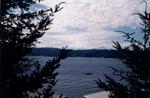 Now that I think about it, I just enjoyed riding today. More sun, not hard to make a good clip. Missed a couple of turns w/ no serious consequences. Saw a lot of second growth forest and clearcuts. And some great views of the Olympic Palisades, over the Hood Inlet especially.
Bremerton, I suspect, is spillover from Seattle. There's no bridge, but a big ferry, and it has a very urban feel for a town of 38,000. Overpasses, buses, hip-hop blaring from cars. I won't be sad to leave it.
Ilahee State Park isn't bad – thick trees offer some insulation from the city. Also, the urban feel disappears pretty fast around the city limits.
My contacts in the area are both out of reach: my phone #'s for both Jim Carbone and Michelle Petersen are out of date. I'll probably miss them as I'll be close to Anacortes tomorrow.