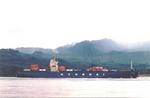 Astoria, OR
to
Seaside St Pk, WA
$32
::
Postage, breakfast, snacks, campsite


73.75 mi

::

9.23 hr

::

35 mph

::

7.8 mph

::

603.9 mi



I meant for this to be an easy day. Now I'm exhausted.
I did manage to send the package, using the back door of the PO again. Yippie!
Didn't find a place to get online – holiday. So I took off. It poured on me, re-wetting my newly dried gear, and I pounded back a few miles during that.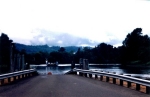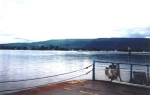 Had lunch waiting for the ferry. That was fun. Saw the Hyundai Commander freighter making way.
The County Line campground I had scoped out was packed and not too nice. So I pushed on, into more rain and no camping opportunities. Finally I gave up and headed for the nearest state park. I made it – good night.