Ecola St Pk, OR
to
Astoria, OR
$75
::
room, food, laundry


30.11 mi

::

3.46 hr

::

30.7 mph

::

7.9 mph

::

530.2 mi



Had to break camp in medium-heavy rain today. Several downpours through the morning.
Seaside is one of the nicest towns I've seen – must be very wealthy. Beautiful homes along a great wide beach. A fair place to bid the Pacific farewell.
Wide awake while riding through the hills, watching the rain fall on the forests and fields. A family watched a young colt learning to run beside its mother.
Came into Astoria alongside a huge freighter on the Columbia, we passed the long Astoria bridge together.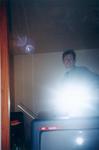 Drying things out in the hotel room, got the package ok. Doing laundry, I worked up the guts to make conversation with a stunning blonde woman. She was preparing for a backpack trip, loved distance hiking, loved the mountains. The woman of my dreams. Kirah Solomon. I all but proposed to her. She followed her boyfriend to Astoria from Colorado.