Cape Lookout St Pk, OR
to
Ecola St Pk, OR
$20.75
::
groceries, ice cream


66.60 mi

::

9.58 hr

::

36.5 mph

::

6.6 mph

::

500.1 mi



Was ready to go about the same time as Marty, so we started together. My first time riding w/ someone at length, slmost all day. He was a little slower (& heavier) than me, but a pretty good match.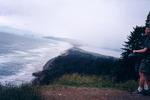 We started in light rain that soon became a downpour. My rain jacket leaks – it needs to be re-waterproofed. It soon let up though and the rest of the day was mostly cloudy with very little rain. I alternate from being wet to dry, hot to cold, all day.
We did some nice roads: forest, rural dairy farmers, fishermen. In Tillamook we toured the cheese factory, bringing the complex, industrialized, massive, and often ingenious workings of our society to the front of my mind. I was amazed that all that cheese would be sold, that all that intricate machinery is profitable. The tour is designed as a factory as well, where tourists shuffle through in well-planned patterns and money is extracted at various points. Nothing tempts us strongly enough though, and we exit through the faulty consumer line.
Another nice rural detour off 101, and we're soon at the state park where Marty plans to camp. I feel like putting in a few more miles, so we part ways. He gives me his address in Arcata for when I finish.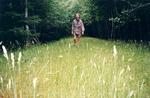 I continue, knowing there are no state park campgrounds ahead. About 6 PM I start to scout for possible campsites off the road. There are all sorts of little roads and paths taking off from the highway if you pay attention. A couple are no good, but the third leads to an old blocked-off paved road that is totally overgrown. It's a strange sight, in places the old road is a solid bed of mass and grass. It takes a while to find a dry spot for the tent. Finally I stake the back to the old road shoulder, put the tent on a patch of grass, and tie the front to the bike. It's lop-sided, but will have to do.
Cooking with dry milk for the first time in a while I burn it, spill it on my stove, and have to eat my Alfredo with black chunks. I leave the pot to clean tomorrow.
My first package pick-up in Astoria tomorrow. Hope all goes well. Might be tough w/ 4th of July weekend upon me to find a room.