Cape Blanco St Pk, OR
to
Tugman St Pk, OR
$26.59
::
groceries & campsite


74.55 mi

::

8.3 hr

::

39.9mph

::

8.7 mph

::

272.4 mi



When I got back to 101 in the morning, there was a grey-haired, crooked-toothed guy coming south on a women's Western Flyer with a backpack and front & rear panniers. He immediately noted that my bike is tail-heavy and has no chain guard – more observant than most. Then he proceeded with a flurry of facts:
He had invented a very good solar diode
I could ballast the front of my bike by putting batteries in the tube and attaching a small motor
His bike cost $5
All electricity is man-made in radio towers, RF-modulated
Motors require very little current, I might even power my bike with a few of his diodes
The western flyer was the fastest bike ever made
Electric current is essentially the same as the wind
Batteries weigh only ¼ ounce and last for five years
He had worked with GM on an electric car that recharged automatically near radio towers
The cars you plug in aren't really electric
He would keep riding as long as the wind is at his back (there are prevailing northerlies all summer)
About this time Andrea and Lorie came by, and I used the distraction to politely move on. Hope they were ready to talk electricity.
The sun has been burning my legs through layer after layer of sunblock. Will have to ride in pantlegs for a while. Note: UVA/UVB thing?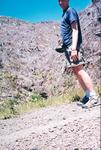 In Langlois a friendly store owner made me an awesome veggie sandwich & warned that some logging truck drivers like to scare cyclists.
Adjustments to handlebars gave me another degree of freedom. Further improvements to pedaling technique.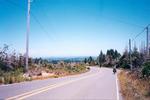 Finally saw two north-bound bikers ahead and pedaled hard to catch up. They led me on a beautiful logging road detour, but were not too interesting themselves. Didn't make me feel too welcome. I let them go by to explore an estuary research center, but caught up again later. Guess I'm not too much slower than the uprights
At camp is a couple from Denmark – toured S. America for 5 months before coming here. They love it, and have bright eyes. I think I'm like that already. Talked a bit about logistics. N: trip funding.