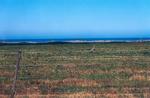 Prarie Creek State Park, CA
to
Harris Beach St Pk, OR
70 mi
::
127.8 mi
Up a little after sun. Immediately went on a hike, the Revelation Trail. Excellent self-guided trail instructs using all senses but taste. Learned to ID Elderberry, Tan Bark Oak, Sword Fern, Black Huckleberry.
Unsweetened muesli for breakfast (BF). Packing when Forker go up, wished him well & departed. First thing – a gorgeous ascent through towering forest. Learned to ignore miles, to be inspired by surroundings instead. 1st 1000 ft. hill, really fun coming down. Speed handling on the recumbent requires some skill.
The route rejoins 101 when there is a bridge, then departs again when possible. Some bridges are long with no shoulder – hope those cars back there are friendly!
Got some cheap food in Klamath: noodles, burrito, cookies, chips, & 2 snickers, plus 18� gas. Total $11.60. Oh – that includes 2 powerbars. Another monster 1000-ft climb – very bad shoulder on some of it. Felt at risk often. Again lovely forest though. And not too much fatigue. The descent brings me to Crescent City, smelly & dismal. My burrito is still frozen when I reach the beach, so I munch chips & presss on. Outside town are more charming rural roads. I stop once more at Mr. C's groc. For tortillas, water, and monster ice cream sand: $4.38. I had gotten dehydrated, not wanting to look for water in CC.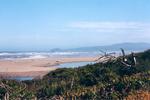 Another bridge & rural rd., I can feel the butt & legs aching from those hills now. Make a good push through Brooks to Harris State Park (Beach & Cmpgrnd). Oh so sore. Go a very pretty campsite.
Later Chris & his Dad pull in, who both smoke everyday. Then Brendon from Medford, riding his new mtn bike home. All are interested in the recumbent. I talk, then eat a ton of noodles & cookies.
It's getting dark now. The bike needs the dynameo tightened, back rim trued. Later.