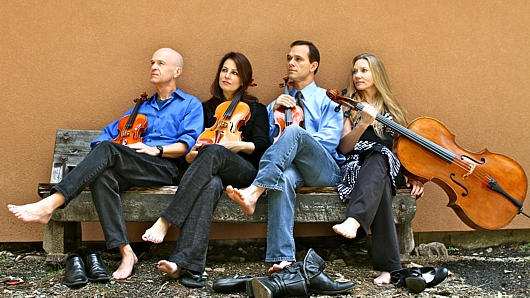 I'm not expecting much from a free concert at Saginaw Valley State University, but I'm really pleasantly surprised by this quartet. They are clearly fine, professional musicians and are having fun while playing really rich music. Their credibility is established with a fairly classical sounding piece full of rich harmonies and tones, then they cut loose with some "gypsy music". A similar pattern follows the next half with a minimalist sounding piece that seems to be curious about atonality without actually inflicting any pain, making for interesting sound combinations connected by soothing melodic patterns. Finally they play the violist's own "Montana suite", which manages to grab me by my Wyoming roots in the first sparse, windswept movement full of slowly bending intervals.
Full Program:
Quartet no. 2 – Ernö Dohnányi
Czardas – Vitto Monti
Quartet no. 2 "Edelman" – Jonathan Leshnoff
Fiddle Suite Montana – Korine Fujiwara
The concert was part of a the yearly Rhea Miller free concert series, an amazing gift to this community.