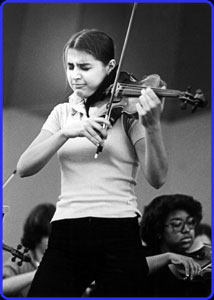 Due to some imprudent timing of caffeine and alcohol intake, I was drowsy when we arrived at Boettcher concert hall. As a result, the energetic program of 20th century big-hitters thrust me into a turbulent half-dream world that I won't soon forget.
Britten's "Four Sea Interludes" from Peter Grimes began the spell with an hypnotic sloshing back and forth between bliss and anxiety. I was thoroughly under by the end, and when Nadja Salerno-Sonnenberg took to the stage in her black-and-white-striped sequined pants I wasn't sure what sort of world I had entered. Whatever it was, when Nadja tucked her violin under her chin and began the Shostakovich Violin Concerto No. 1, the force of it plunged me into that world irrevocably. Never have I felt notes accost me with such insistence, even the softest of them. When Nadja launched into the Scherzo, all thoughts of returning to daily consciousness were demolished. Up and down she danced like some mischievous imp, easily and irresistibly flinging my enslaved psyche wherever she wished.
I don't think I floated back to the surface until halfway through the intermission, but that didn't last long. Stravinsky's Rite of Spring quickly had me chasing Pan through a dark wood, rutting and wallowing in the green earth. What an evening! The guest conductor Douglas Boyd deserves some kudos for a gripping program from start to finish.