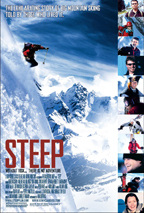 We're hanging out at the Bean Cycle with Kate and Mark when I notice this movie starts in ten minutes at The Lyric Cinema Cafe. We try not to make Kate run on her recently injured ankle. (Every time Mark says "slower", we slow down for about 2 seconds – why is it so hard?) The promise of social movie watching with beer and couches is pretty much delivered on. Ann has a little trouble seeing from her seat, but manages.
So what about the movie? It's a history of extreme skiing, and I think a pretty honest presentation of it in all its white-male-infused glory. There is definitely some genuine insight into the characters that populate this short history, and some deftly edited comic moments for contrast. The footage is all spectacular and makes me long for the mountains, but it gets caught by the trap I see inherent in these movies – the mountains become just a setting for death-defying stunts. It's exciting, but feels cheap the next day – I guess that may be part of the origin of the term "ski porn".
It makes me worry, will I ever be able to express the joy I get from much tamer outdoor experiences without having to sell it with stunts? I hope so.