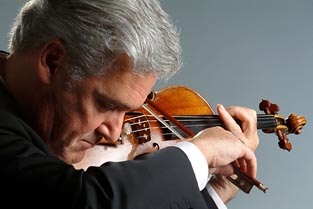 Husband and wife performers are always interesting to watch, knowing that we see the public face of a relationship that continues offstage. I had heard of violinist and conductor Pinchas Zukerman, but not his cellist wife Amanda Forsyth. We begin with only Pinchas conducting Samuel Barber's Adagio for Strings, a piece whose hushed intensity was familiar to me, but far more gripping in person.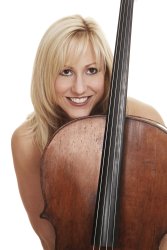 Pinchas both conducts and plays Vivaldi's Concerto for Violin and Cello with his wife, a lively piece full of call-and-answer between the soloists. I find a lot of contrast in their styles. Pinchas is smooth, fluid, and assured. Amanda comes across to me as aggressive, to the point of feeling a little rushed at times. Ann ended up with a totally different impression, though, illustrating the subjectivity of the musical experience. Amanda leaves the stage for Mozart's "Jupiter" Symphony No. 41, which I drift pleasantly through, but returns for Brahms' Concerto for Violin and Cello. This one seems to me to suit her style better, and I'm partial to the way Brahms writes for the cello to begin with, full of powerful currents that pull like an undertow toward mysterious depths. This piece was going to be conducted by the symphony's associate conductor Scott O'Neil, but he's ill so Pinchas conducts and plays again. He's not able to do much but wave his bow in the air a bit between passages, which makes me wonder as I often have before if most of a conductor's work isn't done during rehearsal. Would I notice if there were no conductor during a performance? Probably, if only because the conductor is part of the show. A big part of my enjoyment of some past performances has come from watching Jeffrey Kahane create the impression of weaving the music together on the podium.
We'll be seeing some more good violinists this winter. I was struck last year with the great individuality of good pianists, and I'm hoping I'll get into violinists the same way this time around.