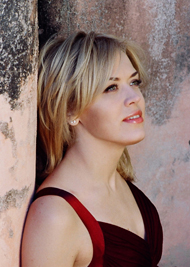 This is our fifth performance by Olga, and by far the smallest venue in our local Edna Rizley Griffin Concert Hall. Our only disappointment is that there are still some empty seats. We'd hoped Fort Collins could pack this small house for her, but I suppose this is a reality of being a modern classical performer.
I think this is the first time I've seen a single artist perform this many times. We know some things that we can expect from her, yet each performance is unique and involving. These experiences are enough to make Olga Kern feel like a significant part our lives. We've seen her at family events throughout our time living in Fort Collins. I think it's been a significant time in her career also – she's been traveling the world incessantly, getting established in what I'm sure is a very tough arena. I can't help but think that she will ultimately succeed with her amazing efforts. I'm thankful that she's returned to Colorado so many times, and especially thankful that she has come to Fort Collins.
We recognize her red stiletto heels as she takes the stage for her first piece. Between pieces, she looks tired, almost worryingly so. As soon as she sits at the keyboard, though, she seems to tap into some infinite source of energy, and is not stingy with it despite the empty seats. I think this mysterious ability may be Olga's secret power. She revels in it. At times there is an almost sinister feeling that she has you in her grip, and there is nothing you can do about it. But she turns it into a gift to you, as she uses it to buckle you firmly into the music's roller coaster car for a wild ride.
Three Sonatas by Domenico Scarlatti (K24, K9, K380). Departing from her usual Romantic fare, these pieces were composed much earlier on the harpsichord, in Bach's time. They are technically remarkable for the period. Emotionally, they feel like a warmup, complex and steadily paced.
Sonata No. 3 in B minor, Op. 58 by Frédéric Chopin. I don't think I've heard this live before. It's exquisite.
Sonata No.2 in B-flat Minor Op. 36 by Sergei Rachmaninoff. Another Rachmaninoff tour de force. Seeing this live has put it firmly in place as my favorite Rachmaninoff piece after the 3rd piano concerto.
Hungarian Rhapsody No. 2 in C major – Adante, s. 242/2 by Franz Liszt An amazing piece to see performed, flashy bordering on psychotic at times, sometimes pure fun.
We get three encores, including Rachmaninoff's Prelude in C# Minor and the standby Flight of the Bumblebee. It's a supremely satisfying night.