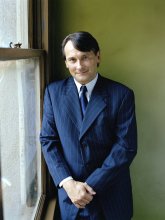 The introductory piece tonight is Tibetan Swing by Chinese composer Bright Sheng, a piece inspired by a rhythmic, whirling mountain folk dance. It's a good mix of foreign and familiar sounds, and a nice tribute to a culture whose survival is threatened.
Next Christopher O'Riley takes the stage to play Ravel's Piano Concerto for the Left Hand, a piece commissioned by Paul Wittgenstein, a concert pianist who lost his right arm in World War I. (He's also the brother of the philosopher / logician Ludwig Wittgenstein, who I happen to be reading about.) O'Riley shakes hands with the conductor and first chair violinist with his left hand, already setting the mood. Watching a pianist use only one arm is unsettling. It brings thoughts of war, loss, and wounds, which the music seems to play upon. It begins low, in a murky world of despair, and makes its way steadily through the stages of grief to a final defiant, triumphant overcoming. Wittgenstein himself didn't care for the piece at first, yet came to change his mind, and I wonder how much of this process is reflected in the piece itself.
I have more energy than usual left over for the symphony, Rachmaninoff's Symphony No. 2 in E minor, Opus 27. To my surprise I still have trouble holding my attention on it, despite Rachmaninoff's talent for whipping up a musical whirlwind to blow your hair back. It occurs to me that perhaps I just don't like symphonies. Maybe I need the focus that the soloist provides in a concerto or sonata, or the conversational focus of a duet. When faced with dozens of musicians all playing well at once I just seem to float away. So I let myself float, the music drawing images out of my mind and swirling me around in them. Maybe this is the gift of a symphony, a subtle massage of the psyche that reveals the music of our own lives to us in the guise of a daydream.