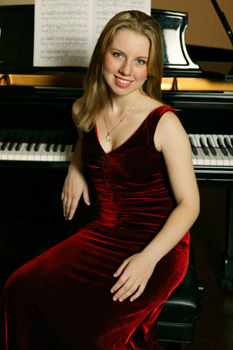 Eighteen-year-old pianist Natasha Paremski stole this show with her performance of Tschaikovsky's Piano Concerto No. 1, as is clear from the Rocky Mountain News review.
Jeffrey Kahane surprised me at this performance by conducting without a word, and I realized that I was anticipating the long or short lecture he's given at the past few dates. He stayed true to his other patterns, though, starting with a slightly eccentric, punctuated orchestra piece from a young (34) composer, Thomas Adès, called …but all shall be well.
Next came a choral symphony by Rachmaninov, Kolokola (The Bells). I realized that I've only heard piano pieces by Rachmaninov so far, and it was kind of exciting to look at the whole symphony choir standing on stage and wonder what Rachmaninov would do with them. The music doesn't disappoint, evoking four phases of life symbolized by different bells ("The Silver Sleigh Bells", "The Mellow Wedding Bells", "The Loud Alarm Bells", and "The Mournful Iron Bells"). The real shocker for me came when the first of three soloists (Richard Clement, Oksana Krovytska, and Nathan Berg) launched into his work. If I've heard an opera singer live, I had forgotten how visceral it is. It doesn't seem like a voice should be able to make sound that you feel in your own gut, like standing near a passing train. I find it a little spooky as well as awe-inspiring.
And finally Natasha Paremski. She has a touch of shyness and uneasyness to her appearance that isn't unusual for a teenager, but her playing has none of that. At the keyboard she becomes daring, especially with dynamics, playing long passages extremely softly, without any cover from the orchestra. Jeffrey Kahane cooperated, appearing to let her explore the concerto as she wished. She did so with apparently flawless execution, completely capturing the audience, myself included. I even applauded involuntarily between movements, with much of the rest of the audience, unaware of what I had done until the next movement began.
I joined in all the standing ovations at the end as well, but I found myself feeling a little melancholy, wondering if we as an audience would betray Natasha in the future when she is no longer an 18-year-old wunderkind. Will we still beg for an encore when she is older, perhaps less experimental and more self-assured? I hope so.