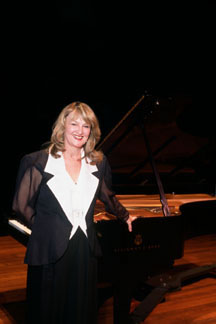 I'll never be a music critic, I'm just too amazed by nearly every performance I see. This was a CSU faculty recital that Ann, Carol (Ann's mom), our friend Alan, and I attended after a huge dinner together. Dr. Landreth clearly put a lot of herself into the program, with readings accompanying the pieces in French and English, and props including Brazilian dolls from her own collection.
After a description of how it was played at his own funeral, she played Chopin's Sonata in B-flat Minor, Opus 35. This piece contains a funeral march that anyone would recognize, but which is entirely more moving and meaningful in context than I would ever have imagined. She followed this with four "Brazilian doll" pieces by Villa-Lobos, with dolls to illustrate. It was interesting to contrast her lecture about the dolls, which was cute and lighthearted, with the deeper contrasts between child and adult, clown and slave, that I experienced from the music. I became intensely aware of the presence of both the composer and the performer in the music.
Rachmaninoff's Prelude in B-minor, Opus 32, No 10 followed the intermission. During this piece I began to marvel at the abilities of Dr. Landreth, to play pieces so unattainable to most human beings, and to do it right here in front of us. Ann and Alan commented afterward that they didn't find Dr. Landreth's playing as expressive as say, Olga Kern's, even though it was technically impressive. These thoughts didn't occur to me – I got so lost in the performance in front of me that I forgot about all others for the moment. Maybe my own feeble efforts to play the piano have made me a sucker, but witnessing the playing of these intensely difficult pieces has become a nearly miraculous experience. This perception only became more intense when she continued to Ravel's Gaspard de la nuit. The image of a woman in a black evening dress hunched at the keyboard seemed to become an illusion – I was really witnessing a human being naked, not just without clothing, without any facade at all, pouring out a lifetime of training, expressing dreams and pain, death and transcendance, for herself, the composer, and all of us.
Whatever the cause of these perceptions may be, whether or not they correspond to any reality, I'm thankful for them. I hope I can continue to enjoy such cheap thrills in future performances.