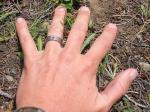 Ann went back to Jackwhacker Gulch today with our friend Alan while I was at work, and, miraculously, recovered her lost engagement ring! The lighter wedding band was nowhere to be found, though.
Unbenknownst to us, both my dad and Alan were concerned about Ann going after her rings alone. I hadn't even thought about it. I knew exactly where she was headed and when to expect her back, and it seemed much less risky than our daily mode of life on the continental divide last summer. In a sweet gesture, Alan endured hours of driving to accompany Ann on the short hike. I wonder what the risks of women going hiking on their own really are? It doesn't seem like people would be concerned at all if I did the same thing.
Some Googling turns up many articles about women hiking solo, but no facts, studies, or statistics on the issues (although I did find a pretty interesting study of women on the Appalachian Trail). Of course a couple of horror stories show up, but there are plenty of those for men too.