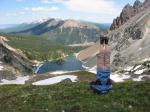 We get going early up to Cameron Pass for a hike that my dad took me on many times as a kid, past Lake Agnes and up Mount Richtofen. The early start pays off when we arrive at a nearly empty parking area that is just like I remember it, atop a dirt road that's just doable in the Subaru.
We're fairly high on the mountain when a concurrance of thunder and tired hikers (and dog) bring us to a halt. It's still been a great training day, and fun to watch Ann learn to move on the same rock and snow fields I learned on.
This hike is in a Colorado State Forest, so you either need an annual parking pass or you have to pay a per-person day use fee to park here. It's about an hour and a half drive from Fort Collins – I wish it were closer but it probably helps to thin the crowds.