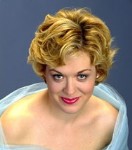 After another exhausting day of moving, we pile into the Subaru with essentially no preparation to see Olga Kern play Rachmaninov's 2nd piano concerto at the Gerald Ford Ampitheatre in Vail. We're delirious. We don't even bring a sweater, we've been so continually hot these past days. When there is something resembling a snow shower on Loveland Pass, we begin to realize our lack of foresight. We lived in the mountains last summer, and now we have driven back for an outdoor event with barely a stitch of warm clothing between us.
We arrive in Vail early and drive from one end to the other, with no idea where the ampitheatre is. It's okay though, eventually we find an information booth that happens to be within walking distance of it. Due to Ann's general preparedness, we have raincoats and sleeping bags. She stuffs her bag and we set off for the evening.
After a drink we find the theatre. It's a gorgeous venue in the pine-clad valley, Gore Creek flowing by, alpine gardens surrounding an ampitheatre that is half covered assigned seating and half grassy general-seating hillside. We are in the latter, and we find a spot we hope has an unobstructed view of Olga at the piano.
The introduction is the lively Ruslan and Ludmila Overture by Glinka. At the finale, as if on cue, thunder rumbles through a darkened sky and a downpour begins. Luckily Ann has also brought an umbrella. We stuff Ann's down bag under her raincoat and huddle under the umbrella. The more prepared concertgoers are huddled under tarps, the less prepared are fleeing. We hear one man profess in his retreat, "I like music, but not that much!"
There's no way we're leaving without seeing Olga. When the rain ceases and the clouds clear, they roll out the piano and she appears. Again she is supremely confident in an elegant evening gown. With very little fuss she sits and begins to play.
Rachmaninov's 2nd piano concerto doesn't quite grab me (I won't say by what) the way the first one does, but again Olga's performance is spellbinding. My breath is caught in antipicipation of her next note. She pounds and caresses every inch of the keyboard. Again, she takes our hearts.
At the intermission I look around a little for Bob Gamage, who wandered into the hobolog when I reviewed the Olga Kern concert in Denver. He had given me his seat number, but in the chaos of moving I forgot to bring it.
The final piece is Tschaikovsky's 5th Symphony. It sends me into a sort of trance, facinated not just by the music but the way it rises up into the forested valley and mingles with the mountain wind and singing birds. Ann claims to be in total bliss in her sleeping bag, listening and looking into the sky.
Ann heard that Olga would be signing CDs after the show, and like giddy groupies we rushed to the tables for ours. She was charming, accepted our praise and tried to answer our questions. Ann reaches out to shake her hand and I follow suit, embarassingly eager to touch the hand that makes such music. On our way out Ann stops and wants to go back and see if Olga will eat dinner with us, but we can't make ourselves do it.
It's a long drive home. I arrive five minutes after closing at three different Starbucks, and if the guys at the last one didn't take pity on me we would have to sleep in the car and wait for them to open in the morning. They make me a double Americano that gets me home.