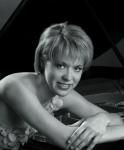 I've been looking forward to this concert for months. The first half, the Colorado Symphony Orchestra playing Sibelius' Finlandia and Symphony No. 5 in E-flat major, was an excellent primer. Jeffrey Kahane, the conductor, gave a really fine introduction, without notes, and seemed to revel in the performance. I had heard Finlandia before, but it was much better live. The Symphony was a little relentless for me, especially with the tremolo string section, but still very evocative. It gave me visuals of exploring a frenetic mountainscape as a tiny flying particle, just moving and observing. The main event, though, definitely came after the intermission.
Olga Kern emerged on the stage in a spare evening dress, sat at the piano, and launched into the Piano Concerto No. 3 in D minor by Rachmaninov. From the first second she seemed to throw every ounce of her being into the piano in a mad incantation, bent on bringing you to the brink of helplessness, easing you back to pure awe, then caressing and soothing to keep you breathing just enough to make it through the next volley. I've never seen anything like it. Both the composition and the performance seemed to be gushing into this world from another realm, as if she had opened a wormhole and was possessed with the desire to pry it open further. During the performance a man slumped over in his chair and was rushed out in a wheelchair by two police officers. I felt a moment of envy at the opportunity to go at such a moment, and the music seemed to reinforce that feeling. It could have been madness, or brilliance, or the place where they meet, but I'll never forget it.
You can find more information on Olga Kern at harmonia mundi, including a discography and concert schedule. We heard that she's playing in Vail on June 26, and are already trying figure out how to go. Don't miss out if she's playing near you.