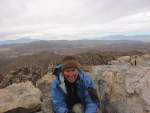 One of the first things Anabel asked about the park was, "Where is the highest peak?" I thought it was Queen Mountain, which from the map looked like it would have a good view of Hidden Valley, San Jacinto peak, and San Gorgonio peak. It turns out I'm right about the view, but Quail Mountain on the other side of Hidden Valley is a little taller than Queen.
On the way in, we find that the park is storing topsoil on the road to the Odell parking area, so our hike will be a little longer. The signs say the topsoil storage is part of the ongoing park construction – I wonder what they're going to do with it?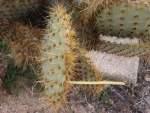 In a wash I see this strange phenomenon: a yucca spear completely penetrating a prickly pear cactus. It looks like it has grown in rather than been poked through.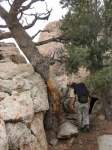 As we near the summit we pass this tree, which has grown up hugging boulders it seems.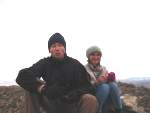 The summit is welcoming, not too cold or windy. We have a snack before heading down. We've done the entire descent, about 1200 feet, when I realize I've left my camera on the summit. Ann and Anabel head for the car while I double back. We agree to meet in two hours.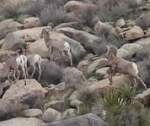 I retrieve my camera fairly quickly, and make it down the road a ways before Ann and Anabel return to pick me up. They wave me down the road a bit further where these bighorn sheep are grazing.
They've been to town in the meantime, and Ann brings me yummy dark chocolate for Valentine's day.