After a sunny breakfast we drive a few miles more up the road to Sierra View, at about 9000 feet. Shortly beyond that the road is closed. The place is well named. This is the best profile of the High Sierra I've ever seen.
We walk a few miles up the snow-bound road to the equally snow-bound Schulman grove visitor center. There are a bunch of excellent information displays here – with the exception of one explaining how 'spiritual' the place is. Why not stick to the facts and let me enjoy it my way?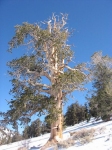 These trees are oldest known living things on the planet, some of them attaining an age of 5,000 years. They've been studied extensively by dendrochronologists, who use the rings in the tree trunks to determine age. I thought dendrochronology was made obsolete by carbon dating, but it turns out these trees were used to make a significant correction to carbon dating that made many archeological and historical theories obsolete.
There are many other interesting facts posted around too. Ann notices the record gust windspeed on White Mountain last October: 153 mph.