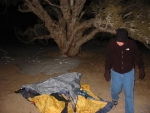 Our original plan for today was to hike 10 miles on the Pacific Crest Trail and camp on Owen's ridge. We wake up late, not yet packed. Two weeks worth of "administrative overhead" items sit untouched on my desk. It becomes clear that maybe planning hikes for every day of every weekend is not realistic.
So we relax, do our chores, run errands, and are ready to go at 3 pm. Instead of hitting the PCT, though, we decide to drive to Bishop. There we finally find a pair of boots for Ann, eat our favorite seared Ahi appetizer at Whiskey Creek, and drive to Keogh for a soak in the hot springs. We didn't bring a towel, so we run naked and steaming in a cold wind with arms full of clothes to get dressed in the car.
We decide then, well after dark, to see if we can find a place to camp on the way to the ancient Bristlecone pine forest in the White Mountains. We see no place before Big Pine, where we head up highway 168 into the mountains. There is one camp on that road at 7000 feet, already snowbound, but it is a group camp, so we head up White Mountain road. It's packed with snow and ice, but not too steep. After 5 miles we reach Grand View campground at 8500 feet, and find a clear patch of ground beneath a tree to pitch the tent. Except the tent poles are still in my backpack, which we didn't bring. Ha!
So we bivy in the tent without poles. Ann has her thermarest and my balaclava to help with warmth, and she runs around before climbing in bed. Despite temperatures cold enough to freeze our water bottles solid in a few hours, she spends her warmest outdoor night in weeks.