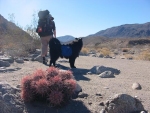 Cottonwood-Marble Canyon confluence
to
Camp 1 in Cottonwood Canyon
8.7 mi
::
4 hr
::
1830 ft
We get a reasonably early start, which is a good thing, because there's a little more to getting to Cottonwood Canyon than just driving to Death Valley. A park pass and backcountry permit are required, which we got at the Stovepipe Wells ranger station. That's important, because every thirty minutes a ranger drives an electric golf cart out over the eight miles of washboard bumps and three miles of Subaru-scraping rocky arroyo road to write tickets and nab illegal campers. We also buy two 7.5-minute topos, for Ann to 'practice navigation'. They will come in very handy. Around one o'clock we park at the Cottonwood-Marble confluence and head up the Cottonwood road with four liters of water apiece.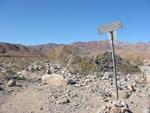 Most of the day is spent hiking up the road that winds up Cottonwood Canyon. For a road hike, especially, we see peculiar and amazing things. The first is the metal signpost where the two big canyons meet. It's hard just to spot the sign because the size of the terrain overwhelms it, but it's impossible to read it unless you walk right up to it. "Cottonwood" and "MARBLE" are scratched on the metal plates like a child's drawing of a street corner.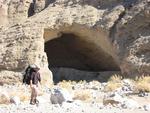 Ted told us that he backed his truck into a huge, naturally sculped dirt ampitheator and blasted his stereo to the moon. I think this is it – because Ann is in the foreground you can't tell that it's about 60 feet high.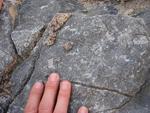 There is an amazing variety of rock in the canyon. Ann finds many small fossils in a dark wall, while just up the way the rocks look like layers of caramel, melted and cooled.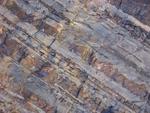 Another patch of dark rock has white minerals higlighting all the textures in it.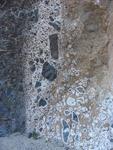 Just before we stop for lunch we meet two hikers returning to their truck who describe the canyon ahead as a "jungle" of cottonwoods. Shortly after that another couple wave as they drive by, then stop and chat on their way back down. These are the only people we see all day.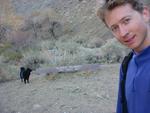 What we actually find at the end of the road are big cottonwoods growing in marshy canyon bottoms choked with tall grasses, vines, and cattails. The way seems to be to go until you get stuck, then follow the evidence of trampling from those who did the same before you. There are many places with flowing water, but we're still carrying plenty. We get wet feet, and even do a few climbing moves before we find a high, flat spot to camp at dark.