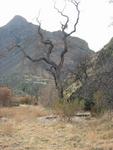 In the morning, after 13 hours in my tent, the verdict is that tent-shopping is in our future. The North Face Canyonlands is nice at just under four pounds, but too claustrophobic for weathering big storms together. We aren't hungry yet, so we pack up and start walking.
We are in a tight canyon crossing a creek bed when two fighter jets rip through the air just above us. We both skip a few heartbeats before we figure out what the noise is. We wonder if animals experience panic like that too.
We pass a rock covered in red fire retardant, which we'd only seen from afar before. There is a tree bearing big, shiny, soft nuts that smell a little like dates to me. We see a sizeable, dark pile of animal scat which I can only guess comes from a bear. Wanting to prolong the day a little we stop for a lunch of buffalo chili before continuing across Bull Run Creek to the trailhead, then into town for coffee.
While Ann waits in the local coffeeshop I head out to catch a ride back to our car. I walk a mile or so up the road before Steve stops to pick me up in his turquoise 1971 Ford flatbed. Among the more interesting things I learn about Steve:
At the peak of his 6 1/2 year professional bullriding career he earned $198,000.
He once hit a bear on this road in this truck, which is why the steering's a little loose.
The accident that ended his bullriding career cost him a knee, a shoulder, and 52% of his brain.
Aside from the truck he will only drive a 1970 Camaro. The truck gets better mileage.
He turned down $1000/month disability check and returned to the Kern canyon where he grew up to work for a living.
When I get out in a light snow I feel a keen appreciation of being healthy and alive.