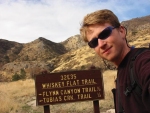 We park at the Whisky Flat trailhead in Kernville, planning to hike north for an over night trip, but there is a 'DAY USE ONLY' sign at the trailhead. Ann convinces me to ask about it at the ranger station. It turns out a local rancher owns the parking area, and will tow any cars left over night. We can, however, park over night at the Fairview trailhead 14 miles north and hike southward, so off we go up the river road.
It's a good training trail, with some small steep up & down but nothing too sustained. There are excellent views of the rocks on the east side of the valley, including a face that looks like about 400 feet of solid granite. Probably it would make great climbing, but not worth the approach.
We cross picturesque Tobias creek, which provides a little rock-hopping practice. The smells in the washes are strong and perfumy. The hills are covered in some kind of scrub brush that is home to vines that grow giant spiny seed pods. The vines are dead now, pods yellow and dry.
After about 7 miles we find a spot to camp by the river. For dinner we have chili that Ann made and dehydrated. It's ready instantly, and tastes great.
It gets totally dark at 6 pm and cold too, so we just pile into my tiny tent for the night and attempt to read for a while before bed.