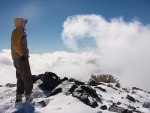 When the alarm goes off at 4 am, I have no clue what we're in for. We throw breakfast, lunch, and gear together in a blur and are in the car by 5 when we discover the car windows are iced and the defroster doesn't work. Not the sort of thing we noticed while the highs were still above 100 in October. After a lot of scraping and scrubbing we get enough visibility to drive to Ted's.
Ted is there by his truck. He thinks he's driving, and we both sit there for a minute waiting for the other one to load their gear. There's some bickering before we settle on my car. Ann saves the argument by agreeing to sit with Jezze in the back so Ted won't get (dog) hair on his butt. It looks like we might fight all day.

The drive goes quicker than I remember. It's about 70 miles, the last 15 on potholes with bits of road in between. The car engine smokes and stinks of oil burning, but makes it up the hill. The last bit is steep dirt road covered in a few inches of snow. We start to get excited, and worried.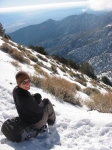 Ann has nothing but her mesh running shoes, only slightly better in snow than sandals. Jezze is thrilled to be somewhere where her black coat isn't a punishment, and she struts and plays with unusual confidence. She even seems less afraid of Ted. Ann decides to see how far she can get before her feet freeze, and takes off.
Ted and I start up about 20 minutes later. We both have reasonable gear for snow, and hope to make the entire 7-mile, 3000-ft hike to the summit. It's glorious to be out in a cold, snow-covered world. Death valley looks serene and remote below.
More than an hour passes before we catch up with Ann. By that time she's about ready to turn around. Clouds are starting to form around the peak. I get nervous that it might be the beginning of more weather, and I urge Ted to make good time.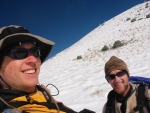 It's much less windy than the last time I did this hike in February of 2002. The clouds make for dramatic views, casting doppled shadows on the desert valley floors. The hiking is hot or cold depending on the amount of sun, wind, and the steepness of the trail. On the last mile, I manage to stay on the trail in a spot where I wandered off onto the west side of the ridge before. The east side trail is much easier going, with gentle switchbacks up to the summit.
When I reach the top it is one bright island of snowy rock in a sea of clouds. The sunlight is dazzling, and a steady wind makes it cold. I add some layers, take pictures, and sign the register. No one has made an entry since October 3. The clouds are breaking up a bit when Ted arrives, and we get a few pictures with land in the background. I like the cloudscapes though, for the truly other-worldly sensation they give.
The hike down is quiet and peaceful. The clouds continue to break, and some of the snow has melted on the south-facing slopes. Ann is glad to see us when we reach the car. The round trip has taken us almost eight hours, a few hours longer than she expected. All is well, and everyone notices my driving is much mellower on the return trip.